Five recent incidents of cloudburst in India


01-07-2016
Indian Express

At least 30 people were killed after heavy rain and landslides in Uttarakhand with a significant number of casualties reported due to a cloudburst in Pithoragarh district. A cloudburst is basically sudden but massive fall of rain for a short period of time within a geographical area and is usually accompanied by thunderstorm. Cloudbursts are often reported when there is a shift of hot air from the ground up towards clouds which carry a large amount of rain drops. The temperature difference eventually causes the break, leading to the sudden discharge of water.

News of cloudbursts in Uttarakhand remind of 2013, when violent flash floods devastated the hill state and claimed more than 5,700 lives. Bodies of thousands of people were never recovered. It was designated the country's worst natural disaster since the 2004 tsunami.

During the monsoon season especially in hill states like Uttarakhand and Himachal Pradesh, cloudbursts can wreak a lot of damage. Rivers flowing beyond its capacity could turn into a deluge if there is a cloudburst. Such occurrences can also result in massive erosion of land, leading to landslides and destruction of roads and national highways. During the 2013 floods, videos showed small houses and buildings constructed on hill sides flowing away in the aftermath of the rain.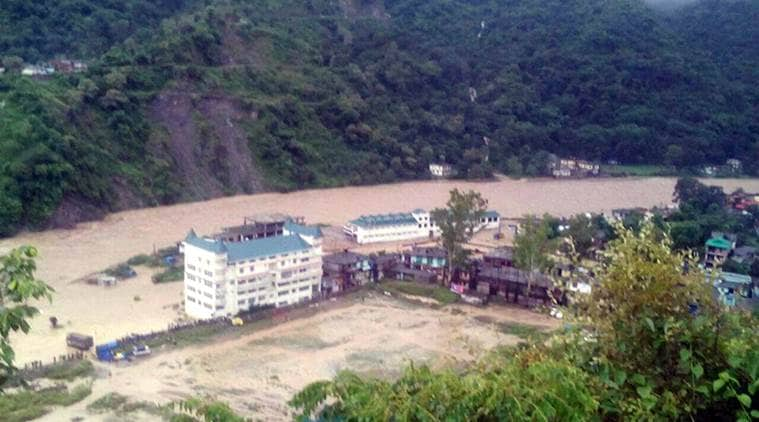 Five recent incidents of cloudbursts in India

* Tehri district, Uttarakhand – Hundreds of houses were demolished when heavy rain triggered cloudbursts in half a dozen village in Tehri district causing immense damage. At least 100 animals were buried under the debris although there were no human casualties. Pilgrims on the Char Dham yatra were also stranded on the roads. (May 28)

* Shimla, Himachal Pradesh – Four youths went missing after cloudburst triggered a series of flash floods. Chief Minister Virbhadra Singh later visited the site of the tragedy. (May 14)

* Dharampur, Himachal Pradesh – Four persons, including three members of a family, were feared killed after heavy flash floods caused by a cloudburst in the Dharampur area of Mandi district in Himachal Pradesh (August, 2015)

* Kashmir Valley – Eight cloudbursts in three weeks left at least ten people dead in the Kashmir Valley. The occurrences have been reported in Budgam, Kupwara and Ganderbal. (July 2015)

* Tehri, Uttarakhand – A 55-year-old man of Jaspur village in Tehri district was buried alive in debris and five others injured after cloudburst in the area early this morning (July 2015)
Disclaimer: Please write your correct name and email address. Kindly do not post any personal, abusive, defamatory, infringing, obscene, indecent, discriminatory or unlawful or similar comments. Konkanworld.com will not be responsible for any defamatory message posted under this article. Please note that under 66A of the IT Act, sending offensive or menacing messages through electronic communication service and sending false messages to cheat, mislead or deceive people or to cause annoyance to them is punishable. It is obligatory on Konkanworld.com to provide the IP address and other details of senders of such comments, to the authority concerned upon request. Hence, sending offensive comments using Konkanworld.com will be purely at your own risk, and in no way will Konkanworld.com be held responsible. Similarly, Konkanworld.com reserves the right to edit / block / delete the messages without notice any content received from readers.